Style 7126 - Commercial Buna N-Nitrile
Buna-N Nitrile is a good high & low temperature gasket material, with has an excellent resistance to fuels, oils and greases. A Versatile material used for gasketing application involving water, gasoline, Kerosene, hydraulic silicates, alcohol, gases, and petroleum lubricants. It is availale in a range of durometers, thickness, full rolls, part rolls and sheets.
For durometer / dimensions / thickness options other than listed here, please call us @ 1-800-876-SEAL, or add notes after clicking on "Request a Quote"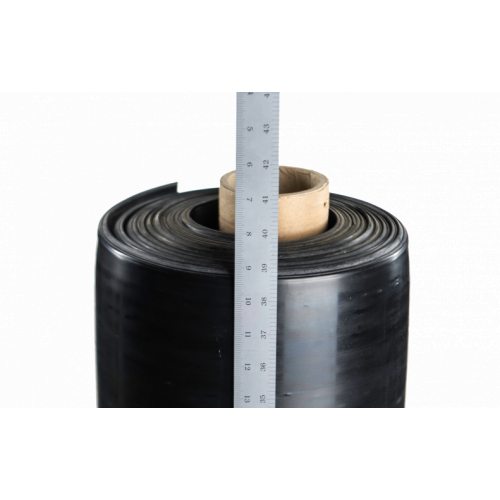 CUSTOMIZE AND SEND REQUEST
Temperature
-40°F/-40°C to 200°F/93°C
Applications
Water pump seals
Hydraulic actuator & pump seals
Carburetor & transmission seals
Durometer
Ranging from 40 through 70
Specifications
Durometer 40: ASTM D 2000 1BF 408 Z1, SAE J200 1BF 408 Z1
Durometer 50: ASTM D 2000 1BF 508 Z1, SAE J200 1BF 508 Z1
Durometer 60: ASTM D 2000 1BF 609 Z1, SAE J200 1BF 609 Z1
Durometer 70: ASTM D 2000 1BF 710 Z1, SAE J200 1BF 710 Z1
Z1 = Meets basic requirements for BF materials
Elongation
350% - 200% minimum (for durometer ranging 40-70)
Tensile
800 - 1000 PSI minimum (for durometer rage: 40-70)
Compatible exposure
Water, and weather elements
Aliphatic hydrocarbons: Gasoline, Kerosene
Hydraulic silicates, alcohol, gases, and petroleum lubricants
Not compatible with
Solvents, benzene, ketones
Phosphate Ester Hydraulic Fluids
Extremely high concentrations of Aromatic Hydrocarbons
Weight
2.5 lb (40 durometer material)
2.6 lb (50 durometer material)
2.7 lb (60 durometer material)
2.7 lb (70 durometer material)
Products Using This Material