Style 2034 - Pure PTFE Packing with Hi-Temp PTFE Suspensoid
Phelps Style 2034 is Centerlock® braided pure PTFE filament that is lubricated with PTFE suspensoid. This construction creates a dense firm packing with excellent chemical resistance and is impervious to vapor and gases. Style 2034 does not wick, there it is an excellent choice for valves, hatch seals and inspection port seals. It is an excellent valve stem packing for a wide range of chemical and corrosive media.
Style 2034 conforms with Mil-P-24396, Type B.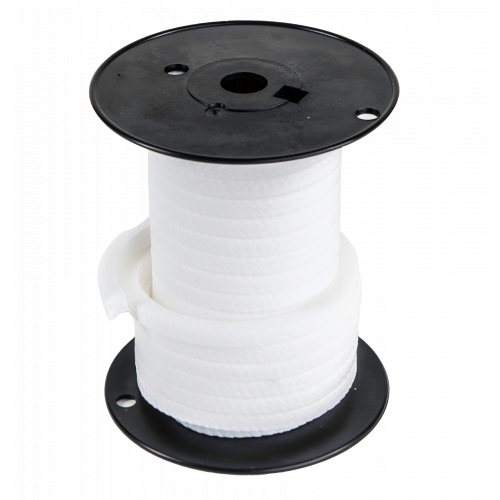 CUSTOMIZE AND SEND REQUEST
Pressure
Rotating Pumps: 300 PSI  |  Reciprocating 2150 PSI  |  Valves: 2500 PSI
Temperature
-104°F / -75°C to 500°F / 260°C
Applications
Phelps Style 2034 does not wick, and exhibits strong chemicals resistance. Style 2034 is particularly suitabe for Low speed and static applications used in the following equipments & industries
Equipments:
Centrifugal and rotary pumps
Control valves, chemical processing valves
Hatch seals, expansion joints, inspection port seals
Industries:
Chemical & Pharmaceutical, Pulp & Paper
Power generation, Water & Wastewater tech,
Food & Beverage and General industry
Specifications
Conforms with Mil-P-24396, Type B.
Material Advantages
PTFE construction makes it impervious to almost most chemicals, acids, and corrosive media.
Phelps Style 2034 will not wick - therefore, an excellent choice for valves, hatch seals and inspection port seals.
Environment Suitability
Strong acid media, paper stock, liquor, most oxidizers and corrosives.
Air, water, sea water, brines, superheated steam, sludges, slurries, waste water.
Petroleum oils, petroleum fuels, solvents, chemicals, agitators handling all chemicals.
Avoid Exposure To
Molten alkali metals.
Competitor Equivalent
American Braiding: Style 344
Chemstar: Style 154
Chesterton: Style 324 / 1724
Crane: Style C1045
Garlock: Style 5888
Teadit: Style 2005
Palmetto: Style 1367H
Sepco: Style ML2254
Utex: Style 231