Style 2033 - Pure PTFE with PTFE suspensoid and silicone oil
Phelps Style 2033 is a pure PTFE compresion packing, Centerlock® braided and thoroughly lubricated with a special high temperature silicone lubricant which aids break-in and prevents burn-up during break-in period. This construction creates a soft, pliable packing with excellent resistance to chemicals and gases.
Phelps Style 2033 conforms with Mil-P-24396, Type A specification.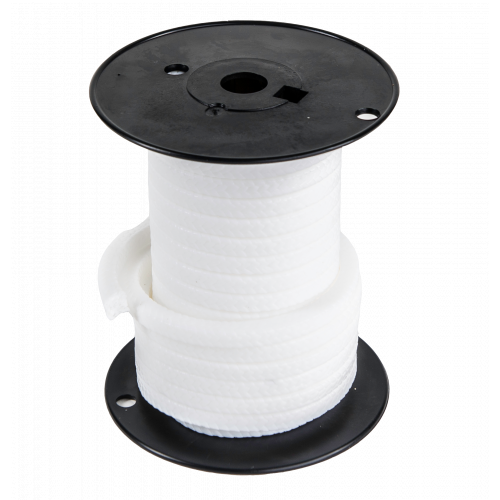 CUSTOMIZE AND SEND REQUEST
Pressure
Rotary Pumps: 300 psi
Temperature
-400°F / -240°C to 550°F / 288°C
Lubricant
PTFE suspensoid and silicone oil
Applications
Phelps Style 2033's low coeficient of friction, silicone lubrication, and extreme chemical inertness make is an excellent choice for the following equipments and industries
Equipments:
Coke plant hot oil pumps
Safety injection system valves
Sump pumps, chlorinators, Alkaline softeners
Reciprocating pumps rods, rams, and plungers
Chemical process pumps where extreme chemical resistance and low shaft friction is required
Especially suitable for high speed rotary pumps and shafts
Industries:
Food & Beverage
Water treatment in various industries
Pulp & paper, chemical and pharmaceutical
Specifications
Conforms with Mil-P-24396, Type A
Material Advantages
No glazing at higher speed applications.
Requires less gland bolt pressure to effect a seal.
High temperature silicone lubricant prevents packing burn up during break in period.
Inert, virtually indestructible, lower coefficient of friction, high compressive strength.
Environment Suitability
Strong acid media, marine, paper stock and liquor
Air, water, sea water, brines, superheated steam, sludges, slurries, waste water
Petroleum oils, petroleum fuels, solvents, chemicals, agitators handling all chemicals
Most oxidizers and corrosives
Avoid Exposure To
Molten alkali metals
Competitor Equivalent
American Braiding: Style 344BIL
Chemstar: Style 154S
Chesterton: Style 328 / 1728
Crane: Style C1050
Garlock: Style 5889
Teadit: Style 2006
Palmetto: Style 1367S
Sepco: Style ML2235
Klinger: Style K54F
Utex: Style 231