Style 9815 - High Temperature Silicone Sealant
Phelps Style 9815 is 100% RTV (room temperature vulcanizing) silicone that can be used anywhere a high temperature sealant/adhesive is required. This high temp silicone sealant builds a formed-in-place gasket at operating temperatures up to 310°C. Phelps Style 9815 high temperature silicone remains permanently flexible and provides excellent resistance to aging, vibration and shock. Style 9815 can be applied outdoors at temperatures as low as -37F. Style 9815 silicone sealant sticks to metal and glass surfaces.
For best results clean with a solvent such as xylol, toluol or methyl ethyl ketone.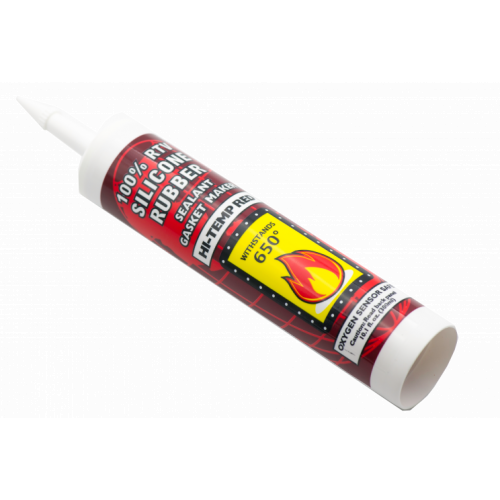 CUSTOMIZE AND SEND REQUEST
Temperature
-75°F to +650°F / 343°C
Applications
Primarily uses to produe formed-in-place gaskets in high temperature applications to replace conventional paper and cork gaskets.
Automotive:
Water and oil pump seals
Valve covers and Axle housings, timing chain covers
Thermostat housings, bearing cap seals, fuel pumps to blocks, solenoid covers
Industrial:
Pump and compressor gaskets
Appliance door gaskets, furnace door gaskets
HVAC gaskets, ductwork gaskets, humidifier gaskets
Repairing torn silicone rubber sheets, dust collection components, wire and cable insulation
Additional Notes
Solvent use requires adequate ventilation. Avoid heat, sparks and open flames.
Specifications
Processing:
Tooling Time
5 - 10 minutes
Tack Free Time @ 75F (24C) 50% RH
15 minutes
Run on Sag
NiL
Shelf Life Stored @ or Below 90F (32C)
1 Year
Physicals Properties:
Durometer (After 7 Days @ 77F (25C) + 50% RH)
25
Tensile Strength, PSI (Mpa)
350 (1.9)
Elongation
500%
Specific Gravity
1.04
Tear Strength PPI (N/m)
30952.5 (10.2)
Meets Following Specifications:
FDA Criteria
Pass
USDA Criteria
Pass
NSF Std. 51
Pass
UL
Approved
US Federal Specifications:
TT-S001543A
Pass
TT-S-00230C
Pass
Canadian Specifications:
19-GP-9MA, Type 1
Pass
Electrical Properties - (Cured 7 Days @ 77F/25C + 50% RH)
CTM 0114 Dielectric Strength, Volts/Mil
390
CTM 0112 Dielectric Constant At 100 Hz
CTM 0112 Dielectric Constant At 100 KHz
2.53
2.49

CTM 0112 Dielectric Factor At 100 Hz
CTM 0112 Dielectric Factor At100 KHz

0.0087
0.00307
CTM 0249 Volume Resistivity, ohm-cm
1.70 x 1014