Style 9740 - RP 1000 Cyanoacrylate Adhesive
Pheps Style 9740 is an RP 1000 Adhesive. This Cyanoacrylate adhesive needs only drops to develop a very strong bond between metals, ceramics, plastics and rubber. Water does not affect this adhesive's bond. Care should be taken to ensure surfaces are clean, and dry; use solvent if necessary. Apply one drop, or very thin film to one surface. Quickly join surfaces together spreading adhesive with slight rubbing motion. Heed safety precaution on label.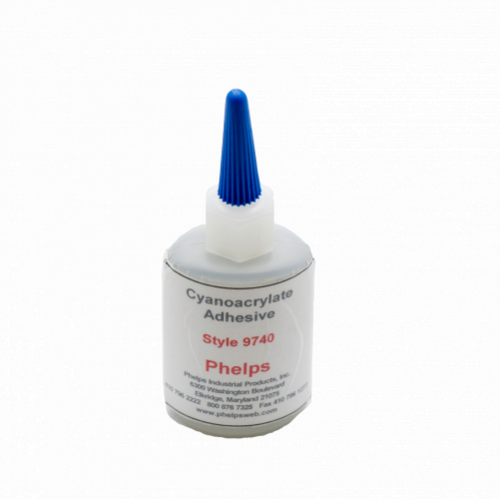 CUSTOMIZE AND SEND REQUEST
Temperature
Environmental: -60°F to 180°F | Flash Point: 182°F
Applications
Water reated (Cyanoacrylate has water resistant quality)
In Marine aquarium for fragging corals. and other underwater applications
It is safe to use directly in the tank, unlike silicone, which must be cured to be safe.
Forensic, bonding, filler, and woodworking applications
Repair polystyrene foam parts.
Works well with porous materials that the glue does not work well with alone.
Used as a forensic tool to capture latent fingerprints on non-porous surfaces like glass, plastic, etc.
Repairing piano soundboards, wood instruments, and wood furniture.
Additional Notes
Solubility: Nitromethane. Gradually in Acetone or MEK.