Style 3014 - Pure High Grade Flax Lubricated with Quad Ingredient Compound
Phelps Style 3014 is a pure high-grade Flax fiber that is Centerlock® Braided, and uniformly lubricated with Phelps special multi-viscosity quad-ingredient compound. Before braiding, the rovings are twisted to increase the strength of the finished section and ensures the fibers maintain their integrity and gain tensile strength.
This compression packing is ideal for centrifugal and rotary pumps, on-board ship pumps, bilge pumps, stern tube and stabilizer stuffing boxes.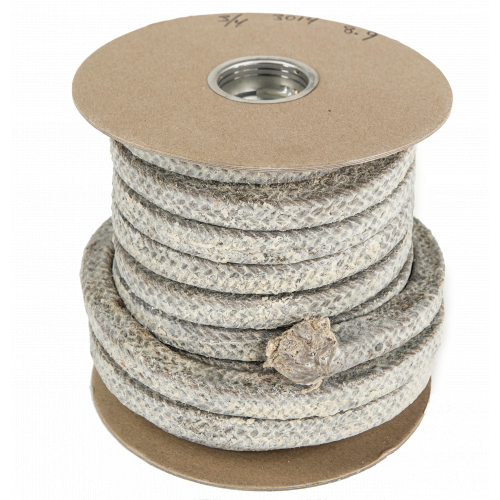 CUSTOMIZE AND SEND REQUEST
Pressure
Rotary Pumps: 250  |  Reciprocating Pumps: 900  |  Valves: 1500
Lubricant
Quad ingredient compound with minimal animal base
Applications
Phelps Style 3014 is designed for use in Marine applications.
Equipment:
Reciprocating, centrifugal and rotary pumps, and valves
Plungers, hydraulic rams and stern tubes, and valves
On-board ship pumps, stern tube and stabilizer stuffing boxes
High shaft speeds, High pressure rams and accumulators
Industries:
Marine, shipping, boating
Waste water treatment, municipal sewage treatment plants
Pulp & Paper industry
Construction
Flax braided in Centerlock® construction
Advantages
Our multi-viscosity lubricant affords longer wear and excellent low friction service
Support high shaft speeds in pumps
Compatible Environment
Sea water, brines, sludges, slurries, waste water,
cold water, cold oil
Competitor Equivalent
American Braiding: Style 921
Chemstar: Style 528
Chesterton: Style 80
John Crane: Style 863, 863N
Palmetto: Style 1600
Teadit: Style 2138
Utex: Style 155, 200