ElastaGraph - A Revolutionary Metal Gasket Technology
January 22nd at 3:02am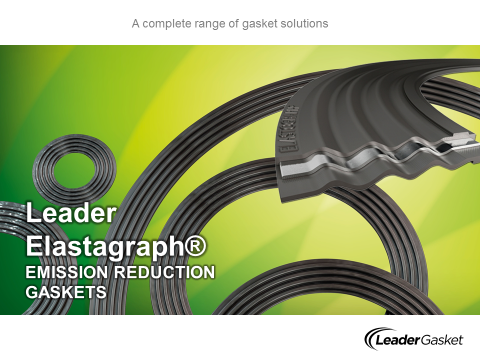 Sheet-material based gaskets can fail when used in demanding application such as petro-chemical plants. Some materials can fail because of "popcorn polymerization", which occurs when a monomer permeates the pores of a Teflon gasket. While others sheet-materials can fail because of chemical attacks on the binder of the sheet gasket material.
To solve some of these problems, Leader Gaskets introduced a revolutionary Metal Gasket called the ElastaGraphTM, which offers several advantages.
What is ElastaGraphTM :
The ElastaGraphTM gasket are made by Leader Gaskets proprietary Dynagraph process which infuses a seamless layer of flexible graphite at varying densities and thicknesses over a corrugated metallic core. ElastaGraphTM utilizes a unique corrugated pattern which increases the depth of the groove and the pitch at the peak of the corrugation and has a unique low density graphite inner step. This greatly improves the gasket's sealability over traditional corrugated designs. The ElastaGraphTM gaskets are corrugated metal gaskets produced using Leader's patented Dynagraph Technology.

What are the advantages of ElastaGraphTM :
ElastaGraphTM is resistant to high temperatures, is firesafe, seals at the lowest seating stress of any other gasket on the market
ElastaGraphTM has excellent recovery and provides a tighter seal than most other gaskets
ElastaGraphTM was developed specifically to solve fugitive emission and compliance problems and is the most economical way of meeting low emission requirements.
ElastaGraphTM performs quite well in bolted joints that experience thermal cycling or limited initial bolt load.
ElastaGraphTM increased pitch and groove depth increase the recovery or "spring back" and reduces the surface area of the gasket for greater unit load at initial torque as well as lower minimum seating stress. This results in bolt stability and increased load retention during thermal cycling.
ElastaGraphTM turns out to be one of the least expensive gaskets available on the market today, and that includes Spiral Wound Gaskets
ElastaGraphTM Operating limits & Specs
Maximum Operating Temperature
PH Value: 0-14
ASME Gasket Factors

Traditional: M=1.5, Y=800 psi
Design: M=1.5, Y=2,000 psi

ROTT Values

G

b

= 32 psi
a = 0.718
GS = 0.001 psi

Pressure Ratings: ASME B16.5 150#, 300#, 600# Class
Metal Carrier: 316L (standard), and other special alloys are allow available
Sealing Material: Graphite
Coating: Elastalon - ePTFE (optional)
Standard Thicknesses: 1/16", 1/8"
Please call Phelps sealing experts @ 1-800-876-SEAL for For more information.
Other Posts

How do IMPA Marine Numbers Map to Phelps Industrial's Products
Read Article